Airport Service
Ontario Coachway – Door to Door 24/7 Airport Shuttle Service
We offer two travel choices for your convenience – Shared Ride Service and Private Direct Service.
Shared Ride Service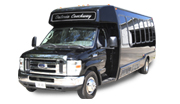 A shared–ride service is an economical transportation option from your home or place of work, that allows passengers to travel together that may be departing or arriving to or from Toronto Pearson International Airport within 1 to 3 hours of each other. With the economical shared ride service we require a minimum number of passengers travelling in either direction to be able to provide the service.
Private Direct Service
Private Direct Service is a non-shared, non- stop transportation service. This service is for the passengers that would rather travel alone at their convenience and no stopping to pick up other passengers. Your choice of time is exclusive to you.
Private Direct Service may also apply between the hours of 21:00 (9 pm) to 8 am if there are no other passengers travelling between these times.
Passengers traveling with pets (due to other passenger's allergies) will require Private Service. All pets must remain inside their carrying crate, except service animals which must ride on the vehicle floor for safety reasons.
Be sure to read our Departure and Arrival Information for more details.