We've Partnered with Via Rail
Ontario Coachway and VIA have joined forces
to improve service and add options for travellers.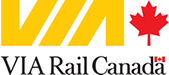 Take advantage of the Ontario Coachway service when travelling to/from Toronto Pearson International Airport: Economical, quality transportation, friendly people and worry-free service. 24 Hours, 7 Days a Week.
WINE TOURS! Prince Edward County!
Take Via Rail to any of our connection cities/towns and Ontario Coachway will meet you and take you or your group on a Wine Tour! and, return you to Via Rail. Call or email for details! (613) 968-2058.
Connections with VIA
Port Hope, Cobourg, Trenton Jct., Belleville, Napanee, Kingston and Gananoque stations.
More info:
For further information, call Ontario Coachway at 1-888-677-4287, or Via Rail at or contact Via at 1 888 VIA-RAIL (1 888 842-7245) or 1 800 268-9503 (hearing impaired).
Visit Via Rail website: http://www.viarail.ca/en/transportation-services/our-partners/ontario-coachway