Wine tours have exploded in popularity over the last decade. We are here to make yours as seamless and safe as possible. Whether with a group of friends, a date experience, an anniversary, or a special occasion – a wine tour offers an adventure in food and education to make sense of wine pairings, flavours, and beautiful scenery (which, for many, means photo opportunities!)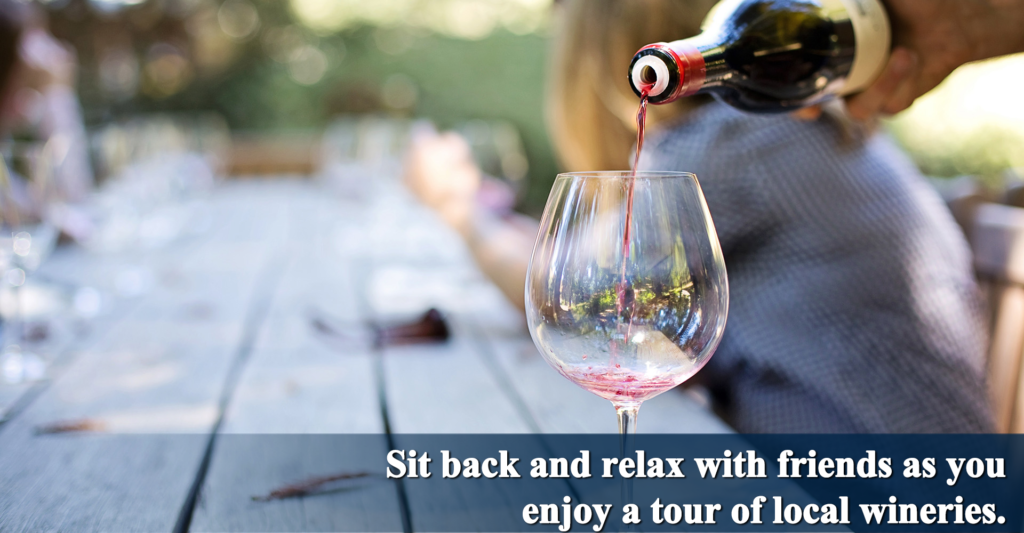 What are the top 5 reasons to book a wine tour this year?
Learn about winemaking. Making wine depends solely on the climate of the vineyard. Different environments are best for producing certain types of grapes, creating different kinds of wine. Learn about the history of the vineyard and the unique reason that particular location was chosen to be the home of that type of winemaking. A great tour guide will make this a fun experience where you can sip and learn simultaneously.
Taste rare blends of wine without the risk of wasting bottles. We tend to avoid purchasing wine at home to experiment because of the risk of waste. A wine tour offers a unique experience where you can ask questions, decide what you like, and taste different blends without having to discard bottles of wine you don't like. The goal here is to discover wines you will love!
Escape the city. City fun has its place, but the atmosphere at a winery is that of nature, peace, open space, and quality experiences. There is something very relaxing about open air, sunshine, and fields of grapes. Each winery in Prince Edward County has a unique atmosphere that is great for conversation, photos, and lasting memories.
Discover food and wine pairings with professionals. If you have experienced a food and wine pairing done right, you know that this knowledge changes how you view food and wine altogether. The experts will teach you which wine is best suited to pair with specific foods, changing how you entertain at home. Your company and your palate will thank you.
Meet new people with similar interests. Wine tours offer a neutral atmosphere with lots to talk about. If meeting new people is your goal, discussing shared interests and new knowledge with people over a glass of wine is ideal.
Finally, booking a wine tour is a responsible and safe way to ensure you get the most out of your day without worrying about transportation. Our friendly and knowledgeable drivers will ensure you arrive on time and return to your location with great memories and maybe some new friendships.
We Will Help Make Your Wine Tour Seamless
Allow us to assist you in celebrating any special occasion like anniversaries, engagements, bachelorette/bachelor parties, or a great day of fun with family or friends with a unique Prince Edward County or Quinte Wine Tour.
We can host a custom wine tour for as few as two people and as many as twenty-two guests. If you have an even more extensive guest list, ask how we can accommodate this!
Sit back, relax, and enjoy your day! Let Ontario Coachway be your designated driver.